What I wasn't told about being an ACTOR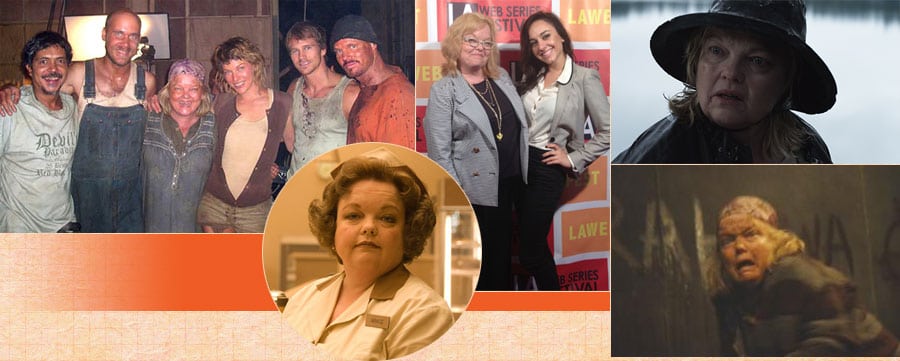 Despite going to a big acting school, I wasn't told when I graduated that I was now an entrepreneur and owner of a small business. I wasn't told this because the acting school didn't know it either. And when statistics say 80 percent of small businesses fail in the first two years, what were my chances going to be for success if I didn't even know I had a business?
When I graduated from acting school
at the Goodman School of Drama thirty years ago, now the Theatre School of DePaul, I went straight to New York with an agent. As it turns out, the agent was more interested in bedding my then actor husband than helping me with my career. The agent told me I didn't have name recognition to get the roles I wanted and that I needed more roles before he could do anything for me. This was not a good start.
I struggled along by myself with NO direction and NO idea how to get to where I wanted to go. All I knew is I wanted to make money as an actor and I wanted to be a movie star, but I had no idea how to make that happen.
Actor's Information Project
As great luck would have it, I found the wonderful Jay Perry and his company, Actors Information Project (now, regrettably no longer in business.) Jay literally changed my life and my career. He taught me how to build my career as a business and go after it on a daily basis with fervor. He showed me how to boldly step into my career. And, I have had a blast!
MOVING TO LA @ 40!!!
When I was 40 years old, enthused by the idea of working on the big screen, I moved to Los Angeles. I was dismayed to learn I had to start all over again. WHAT!? I'd had New York credits! But it didn't matter. Plus, there were five times as many casting directors in Los Angeles as there'd been in New York. I was so overwhelmed! It felt as though everything I tried had a roadblock, "actors can't do this or that…"
But, here was the deal, and why I didn't perish in the maelstrom. Jay Perry had taught me that my acting career was a business, and he'd taught me well. I knew if I could be successful in New York City, I could replicate that success in Los Angeles.
So, when my agent told me I didn't have the name to get work, I made and plan and hired a career coach. And, yes! I marched right to casting on my own and got the role! The next thing I knew, I was hired on How I Met Your Mother, Workaholics, True Blood, Resident Evil, etc.
Actor's needed me
As I became more and more successful, I started to notice great actors around me were falling on their proverbial asses and tragically giving up their dreams. I knew I could help these people because I understood the dynamic that underscored getting exceptionally great work.
I know what it means to be a struggling actor. It's hard, discouraging, and even scary at times. But it's my mission to change the world and the way actors get work one actor at a time.
You may be thinking, "I've done something like this before and it didn't work." Or you may have worked with someone who you think did something akin to what I'm doing. This could be true, but I'm here to say I know I am the only working actor out here offering a system to help other actors get hired. I've seen firsthand how other folks are playing by rules that are rigged against us. To fast track our dream careers, Actor's Fast Track offers a unique, dynamic way to get hired quickly in the roles you want. It's changing the way actors do business. And it's driven by our own rules.
I have worked as an actor my entire life. And I still do. My clients sign up to work with me over- and-over again because I support them 100 percent. Their success is as important to me as my own. And, because I treat them as individuals, they each get exactly what they need on their own level.
I advise them to be sure they are ready to change. If you're seriously not willing to tell people you're an actor, then stop trying to be an actor. You're getting in the way of those of us who are serious about our careers! In other words, stop getting in MY way.
"But I'm too old to get out there," you may tell yourself. Wrong.
I have a 55-year-old client who just booked a co-star role on a TV show. Now, she's primed to work with a number one agent who specializes in co-stars. Because my client has already booked a co-star role, she can go into the room, look that agent right in the eye and say, "Look, I'm back in the game. I figured out how to book a co-star on my own. I'm yours for the taking. You and I are the perfect match."
I've also worked with a 70-year-old actor. You are never too old to realize your dreams.
"I am serious about acting, I'm just not ready to get out there," you may object. "I need to go to a real acting school first!" No, you don't. Guess who else didn't go to acting school? Johnny Depp. So, you can take that excuse for not fast-tracking your career right off your list.
The truth is, we are never really "ready." If you're waiting to be ready, stop waiting! It's okay. You are as ready as you'll ever be. So, be available. If you truly believe you need to "be ready," it's time to look for another career.
But, if you are willing to "be ready," it will help you break that self-defeating cycle. Stop listening to the naysayers who say you can't do it or those who convince you in any way you're not ready for it. Are you going to live your life or let someone else live it for you? No one can commit to YOU better than you. And trust me. There is enough chocolate cake for everyone.
Actors don't have career paths clearly defined for them. Acting school don't provide graduate school or entry-level positions like many other professions. You may be highly talented, but there's no guarantee your talent alone will get you where you want to go.
The blissful days of being "discovered" are GONE! And merely getting an agent doesn't mean you made it. An agent is just a tiny part of the equation.
To be truly successful actors, we need to muster up the courage to take our career into our own hands. We must understand that we are entrepreneurs and, as such, in business for ourselves. Our talent is what we sell, so we must turn ourselves into the most marketable version of our own product. This means taking complete charge of our own life.
Think of your acting career as a business in which you are the company. The elements or "departments" you'll need to build for your success are product development, branding, marketing, sales, and finance.
When I coach my clients, I ask them is, "Are you sitting around waiting to be discovered?" If the answer is yes, I tell them they're dreaming. It's not going to happen. Even if you have an agent, he/she won't ever work as hard for you as you'll work for yourself.  Your agent has many people just like you. You're at the top of your list, but only one of many on an agent's list.
Acting is very serious work.
At Actor's Fast Track we approach our customers with a truthful assessment of where they are. We help them get grounded, real and purposeful, and treat their careers as a business. We assist them in realizing an acting career is not made of inconsequential fairy tales. And while it is inspired by dreams, it only becomes reality through a lot of hard work, planning, strategy, smart-thinking, and a heap of courage and drive.
You're an actor! It's not magic or "being found" that builds your success. WORK launches careers. If you're serious about this life role, now is the time to act!
Join us at our 5th annual SUMMER GAMES!!!  http://www.theaftgames.com